Mexican's as they are people full of Fun Spirit! They love partying enjoying their Margarita's! And with Spring, comes
Cinco De Mayo
! Cinco De Mayo is one of the most celebrated festivals in Mexico. There are many idea's to host Cinco De Mayo Party! One of the easiest to plan is "Costume Party" ! Its simple and fun for everyone!
Mexico is full of colors, invite your guests to your Cinco De Mayo Party n traditional
Mexican Dresses
like Sombreros, Flamenco,
Poncho's
or anything Mexican! Get your guests imagination be wild in dressing up for your "Cinco De Mayo party"
Here are some ideas for dressing up for
Cinco De Mayo Party
:
Cinco De Mayo Costumes Ideas

:
This
sexy dress
is surly going to steal your heart! Beautifully designed in
Red and Black lace
and perfect detailing this Off-Shoulder dress is going to make head turns at the
Cinco De Mayo Fiesta
! This sophisticated costume included black velvet gown layered with red satin and black lace ruffles, sequin headpiece with black lace mantilla veil and fishnet pantyhouse! This dress is surly going to add elegance to your "Mexican Dance moves"!
Also available in Plus Size
Dream of being Jennifer Lopez with those sexy tango moves?
This
RED HOT
Dress will make you
SMASH
hit at the Fiesta Ball! Show off great mexican Tango moves in this sizzling red dress. Perfect for all dance lovers and travel to the world of rythm and dance!
This is my personal favorite!! Epitomize your style in this sexy yet classy, this
Flamenco
is one must have for the
Cinco De Mayo Party
! The matador's will sulry be waltzing their way to you when you dress up in this sexy classy
Spanish costume
.
Don't want to wear black and red, well don't worry Mexico is a colorful country! This
Latin Dancer Costume
with bright color is a perfect for Cinco De Mayo! So, grab your Maracas and dance your way to the festivities this Spring.
This comedic costume make a great costume idea for a group! Pick up your favorite character from the movie "
The Three Amigos
". This full black Mariachi jacket has white detailing, with a ruffled white shirt, a red cummerbund, black Mariachi suit pants with white detailing and a deluxe character sombrero. Grab two friends and go as a trio in this fun costume. And not only men but women can also dress up in this costume!
Amigos you will be looking Dashing in this
Matador Costume
! Show off your strength to all the Senorita's in this Costume. The Matador costume includes Hat, jacket with attached cape, vest and pants.
Funny Costumes for Cinco De Mayo:
Many of us want to stand out of the crowd! Bored of wearing the same costumes every Cinco De Mayo, well I have some funny costume options for all of you out there!
This funny
Taco Costume
is for all the Mexican taco lovers!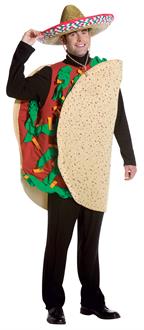 Spread the hotness of Mexican Red Chilli in this
Hot Chilli Pepper Costume
.
No party is complete without "Decorations"! Check out these ideas to make your fiesta fun-filled! Here are ideas to create authentic Mexican Party atmosphere!
Don't ruin your party theme by using solid color boring
Party Tableware
! Huge options are available matching to Cinco De Mayo! Find below the wide range of
Cinco De Mayo Tableware
available for your party!
You decorate every party of your home for Party, but forget your roof! Hand these cute Chilly Roof hangings. Welcome your guests from doorway to the party area with these
Chilly Roof Hangings
.
Let your friends enjoy to the fullest by getting clicked in this
Funny Mexican Photo Prop
! Measuring ' 1" W x 25" H this is surly going to be the crowded area of your party with Kids and Adults waiting to be clicked!
Cinco De Mayo Giveaway:
Don't let your friends go empty handed from your party! There are lot of stuffy you can give to your friends as Favor this Cinco De Mayo!
Margarita Fanci-Frames Sunglasses
are surly one choice, be it kids or adults everyone will love these Glasses or Give them a Sombrero hat to each guest as a token of favor!!
Now, the most important part of any party is "
FOOD
"! Mexican food is full of refreshing drinks and spicy food! Margarita is one such drink, loved by all!
People have thinking that Cinco de Mayo drinks can only be alcoholic, but these drinks can also be made non-alcoholic by substituting different ingredients for the liquor like juice or soda, so even kids can enjoy them!

There are many delicious Cinco de Mayo foods that are perfect to serve at your party. Whether you are having a small get together or a full blown fiesta a variety of different appetizers, side dishes, and entrees to add to your Cinco de Mayo food menu.
Find the recepies in my next post :)

Go wild, go crazy, think out of the box to plan your Cinco De Mayo Party! All the Best for your party :)